When you go to the doctor, it's natural to talk about the symptoms you're experiencing. While medical tests will be critical to judging your health, a doctor can make a better assessment when you share details of how your life is changing and what pain you might be feeling. The same can be said about measuring diversity and inclusion.
These days, it's common practice for companies to set diversity targets and track their numbers. But there's a growing sense that data is falling short in assessing a company's inclusion and equity progress. To better understand why their diversity metrics might be up, down, or stuck in one place, many companies are digging deeper to learn about their employees' experiences.
"Data doesn't tell you everything," explained Laura Long, vice president of national equity, inclusion, and diversity at Kaiser Permanente, during a panel discussion at Forward, a LinkedIn Live event that focused on the future of work. "The employee life cycle and the employee experience that our workforce is going through … makes the data alive."
Prompting employees to discuss difficult topics like race can be hard. A study conducted by SHRM found that 43% of U.S. workers believe discussions about race are inappropriate at work. Even so, companies are offering employees multiple venues — listening sessions, focus groups, and online platforms — to share their stories. Ongoing employee engagement surveys can also be an excellent way to understand your workforce's experience. Companies can use such information to shape diversity and inclusion policies. Here are some strategies to consider: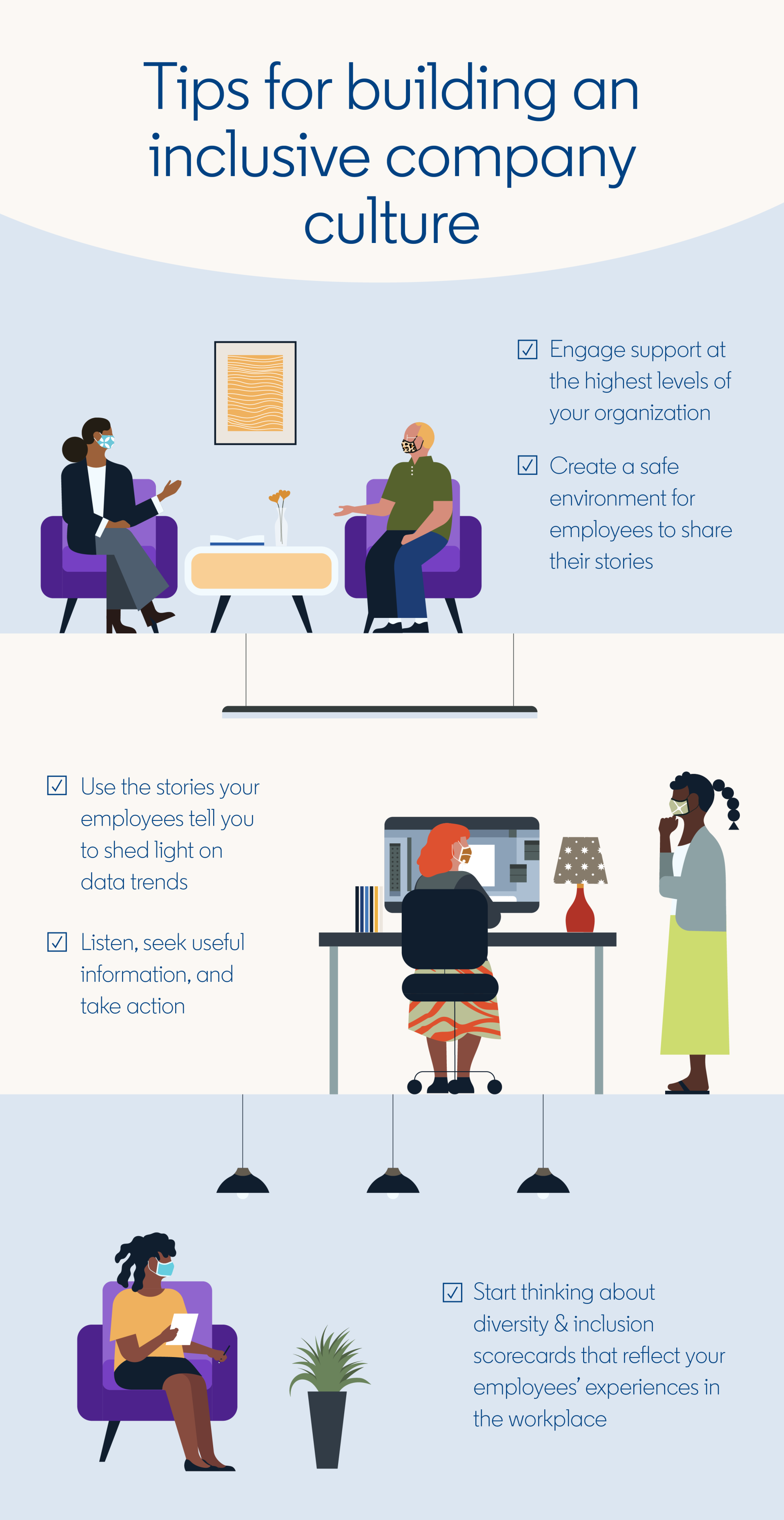 1. Engage support at the highest levels of your organization
When senior management sets the tone for open communications, it can make employees feel more comfortable about sharing their personal experiences. Having a leader step forward to start the discussion can help create a culture where open and frank conversations are welcomed.
"Leaders have got to walk the walk and talk the talk," says Dr. Shirley Davis, CEO of SDS Global Enterprises and a LinkedIn Learning instructor, who participated in a Forward panel focused on diversity and inclusion alongside Laura. "They have to create the space and the opportunity."
The "Diversity Wins: How Inclusion Matters" report from McKinsey notes that what sets "diversity leaders" apart is their "focus on building a company culture which encourages open, productive discussion of difficult topics — for example, through town hall sessions in which CEOs encourage participation and actively listen to employees' ideas, issues, and questions."
2. Create a safe environment for employees to share their stories
D&I experts are finding that employees are more inclined to talk about their workplace experiences if they feel they can express themselves freely without fear of retribution. "You've got to have a 'safe to speak' culture where people feel like they can share authentically and openly," Dr. Davis says.
At the same time, it's important to encourage employees to be respectful and constructive in their comments and to be mindful that it can be difficult to maintain psychological safety as a listening session or town hall grows in size.
Many companies are leaning on their employee resource groups to facilitate these conversations. Companies are also seeing the value of hiring trained professionals to moderate listening sessions that might deal with sensitive topics.
"There's an art to this," Laura says. "You create a safe space where you're validating, you're supporting each other, you're giving space. You're asking folks to take some deep breaths throughout because it can be traumatizing to talk about these things."
Dr. Davis, who's firm hosted more than 60 listening sessions (virtually) since the killing of George Floyd last May, offers employees the option to send private messages to the facilitator via chat.
"When we did that, the floodgates opened," she says. "It was evidence that people didn't feel comfortable sharing amongst their colleagues and being identified. But the minute that we allowed them to share privately, they were open, and they were willing to share their thoughts."
3. Use the stories you curate from employees to shed light on data trends
Some companies are taking a hard look at diversity data and are formulating questions to address specific problems.
As part of a broad effort to advance diversity and inclusion in the advertising and marketing industries, Verizon decided to examine the issues women and people of color face in the workplace. Verizon tapped a research firm to conduct a comprehensive study of marketing and advertising professionals that included a national survey, interviews, and focus groups, a company executive told The Wall Street Journal.
Among the study's findings: Six out of 10 respondents said they experienced some instances of exclusion or discomfort, with women being more likely than men to say they had been underestimated, excluded, or harassed, Adweek reported. The study also found that people of color were more likely to be subjected to microaggressions at work, such as insensitive language or being mistaken for someone else of the same race.
"You have a Black employee and you have a white employee who may be going through career aspirations to be in management," Laura says. "Let's say they both become managers. We need to understand how they both experienced their development and path to advancement."
4. Listen, seek useful information, and take action
As you gather employee experiences, keep an eye out for trends that may emerge and consider taking action. D&I experts warn that companies need to respond to their employees' stories or risk losing their trust.
"We have to make sure that within our comprehensive listening strategy, there is also a comprehensive action process," Laura says. "You dwindle down the trust that employees have in you if they're telling you all of these things and you're not acting."
At Hewlett Packard Enterprise, candid conversations between members of the company's leadership team and several Black team members revealed issues that otherwise would not have been addressed, wrote Jennifer Temple, chief communications officer at HPE, in a blog post. As a result of those talks, HPE took a number of steps, including launching a global HPE Inclusion and Diversity Council and providing support for student scholars at historically black colleges and universities.
For its Black, Latino, and LGBTQ+ attorneys, the law firm Vinson and Elkins organizes diversity and inclusion conferences at which participants are encouraged to share their workplace experiences. When some employees expressed concern that they were not getting their fair share of work assignments, Vinson and Elkins responded by forming committees to monitor how work was being handed out, the law firm reported on its website.
5. Start thinking about D&I scorecards that reflect your employees' experiences in the workplace
As companies acknowledge the limits of data in measuring their diversity and inclusion progress, some are rethinking the standard D&I scorecard.
Sodexo Americas has been moving in this direction for a while. The food service company has a scorecard that includes both quantitative and qualitative information. The quantitative portion looks at factors such as how many women and minority employees are hired, retained, and promoted, while the qualitative part focuses on other factors like mentoring and support for employee resource groups.
Kaiser Permanente is starting to think about adjustments it might make to its D&I scorecard. "What does a dashboard scorecard look like that has both quantitative and qualitative information?" Laura asks. "We're working on looking at a format of a scorecard that can tell a more comprehensive story."
Final thoughts: Employee stories can help you stay accountable and meet your diversity targets
Powerful stories often captivate and engage more than numbers and facts. In a similar way, hearing employee stories can help companies better analyze their data and reach their ultimate goal of advancing diversity and inclusion at all levels of their organizations.
"We need to make sure that we understand the data," Laura says. "We're a 75% female organization, and we have over 50% of women in the most senior level positions and executive positions. In terms of diversity, we are doing really well. But when is it good enough? It's a constant journey in EID [equity, inclusion, and diversity] and we want to maintain those numbers and always improve them. We want to make sure that we're really unpacking the data and the experience. We're never satisfied with just good representation."